One of the things I never realized when I was about to have twins was how truly exhausting life would be. Of course, I knew life would be chaotic and I knew I'd be losing out on a lot of sleep, but I really, honestly, just had no idea. It took me awhile to realize that I ran on autopilot for weeks and even months on end. Someone suggested to me that I try to take pictures of the kids every single day. Not just pictures of them in the cute matchy-match outfits, but pictures of the mundane, ordinary moments of our day to day life. I have my digital photographs meticulously organized (thanks, Picasa!) and it's easy to scroll back through years' worth of history in the lives of my children. I am so grateful for those boring photos that are probably only interesting to me and my family, because a lot of that time is just a blur to me when I try to think back. When you're so painfully sleep deprived, it's just not possible to memorize every single precious moment.
One of my biggest regrets, however, is not making the time to have professional pictures taken of my children. I mean, I have a few. We managed to pull ourselves together and head over to the mall when the kids were a few weeks old. And I have lots and lots of average looking photos of my oldest daughter, taken at various JC Penney stores, Olan Mills photo studios, and of course, Wal-Mart – who can pass up the obligatory 102 portraits for $12.95? When we're talking about pictures of our pride and joy, more is better. What I didn't realize, though, was that those pictures are really pretty crappy.
A friend of mine is an amazingly talented photographer, with such a stunning portfolio that she has more clients than she knows what to do with. When she was first starting out, and trying to build her portfolio, she came over and took some pictures of my children. Here is one that took my breath away: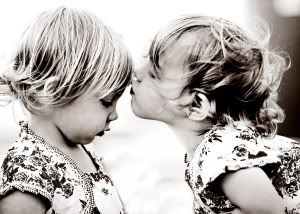 I have a wall full of pictures like these, and they just aren't the sort of thing you end up with when you go to those chain stores. I wish so badly that I would have known this gal back when I got married and when I was pregnant and when my babies were brand new. She's taken pictures of everyone and their children in our circle of friends, and the maternity pictures always make me teary. I have very few pictures of my bare pregnant belly, and I regret that now. What truly makes my heart hurt, though, is seeing pictures of brand new tiny infants. There's such a short, precious window of time where you can get amazing pictures, and once that time passes, it's too late. You can't get that time back. This is the sort of thing I'm talking about: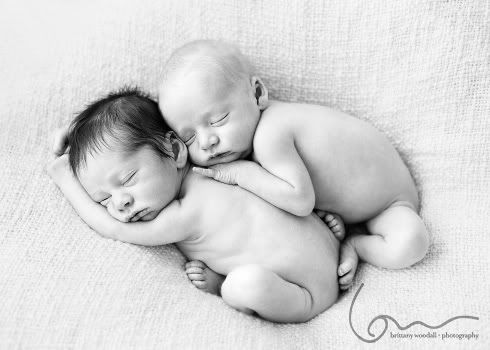 I don't think any woman could look at that picture without spontaneously ovulating! It's precious to the point of heartbreaking! And I hate that I don't have pictures like that of my twins. So this is my plea to you expectant mamas: find a photographer who specializes in baby photos and get her on the phone! Set something up where she can come to your home the first week you're home with your babies. I KNOW it's a crazy, exhausting, hormonally wacked out time – I know it is. Honey, I know: I have two sets of twins! I've lived through it. But make it a priority, so that you don't sit around boo-hoo-hooing a year or so later, when you see pictures like this and they aren't framed on your living room wall.
I know it's expensive to have photos done. Believe me, we are broke as a joke, trying to maintain a family of seven over here. But truly, if you just skip getting the half-assed cheap pictures done every other month at Wal-Mart, you should easily be able to afford one amazing photo session with your kids every year, with a talented professional photographer. It's so worth it, I promise you won't regret having nice photos made. And the grandparents will love you for it.
Photo credits:
barebaby
Lamb Photography