I want to show you the greatest thing ever created in the history of great things.
Temporary tattoos preprinted with your cell phone number: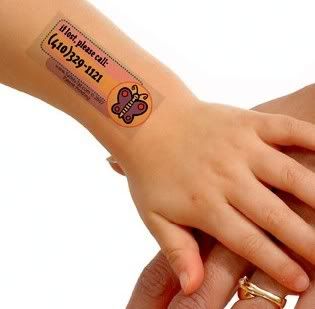 You may have seen these in the most recent Parents Magazine. You may have read my post about them on my review blog. Now I'm here to tell you how great they are, after branding all my children with them at Disneyland:
They're awesome! Well, actually – they come off pretty easily. With a bit of scratching, they were history. I don't know if they were reacting with our sunscreen, or what. The kids could SEE them on their arms, and you know how sometimes you just can't help but pick at something – that's what they did! I reapplied them to everyone, on the backs of their necks, where they couldn't see them! When I did that, they stayed on until I removed them the next day with makeup remover. I was happy with them, especially for the price: 30 tattoos for $19.95.
You can check out all the different designs on their site by clicking their logo below:

We're going to a big birthday party on Saturday, out in the country at a friend's house, where they'll be having pony rides and a jumpy castle and where there will be lots of cool stuff to distract my children and lead them away from my watchful eyes – I'll be branding all of them on Saturday, for sure!