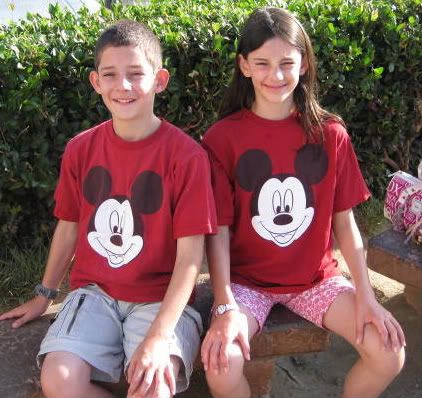 Do you dress your twins alike?  I'm a firm believer in giving my twins choices in many things, and clothing has turned out to be another surprising one.
I was given many coordinating outfits when my twins were babies, and I really think there is nothing more adorable than two tiny people in matching footy pajamas.  As you can see from this picture, however, my twins are quite a bit older now.
As soon as my kids could dress themselves, I gave them the freedom to select their own outfits.  My job was to deliver clean clothes to the drawers and pair up the socks.  Their job was to dress appropriately for the weather.
They seldom wore the coordinating outfits on the same day, but when they turned about 7 years old, they started asking for matching shirts.  While big sister was away at sleepover camp, they had "twin camp" at home, and proudly wore their matching shirts while they concocted activities to do together.
Now they have about a dozen matching shirts and sweatshirts that they have picked out together, and they plan ahead the night before they wear them.
I asked Jungle Boy why they dress alike, and he said "Because it's fun!  And it's a twin thing."
Who am I to argue with that?
Do you dress your twins in matching outfits?