It was a year ago last week that I found out I was pregnant for the first time–although I wouldn't find out for another couple months that I was carrying twins!  As a sort of introduction, I thought now would be an appropriate time to reflect on my pregnancy.  I was lucky enough to have a somewhat "boring" pregnancy and I carried my boy/girl twins to 37 weeks and one day, when they were delivered via scheduled c-section.  While uncomplicated, I definitely had my ups and downs.  Here are some of the most memorable.
Low points
Rib pain
For me, this was one of the earliest, and longest lasting, disturbances.  It started out as a dull ache wrapped around my rib cage, and I had to give up underwire bras pretty early in my pregnancy.  Towards the end I could feel the babies ratcheting my ribs farther apart to make room for their pointy limbs and big heads.  My ribs still haven't recovered!  They're a weird shape, and wider than they used to be.
Swollen feet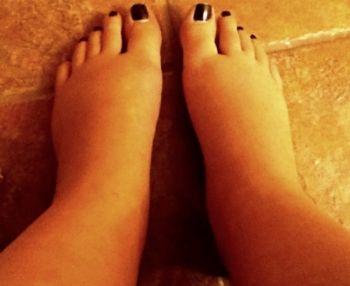 My feet got so swollen it looked like I had on a permanent pair of Uggs.  Putting my feet up at the end of the day didn't help with the swelling but I didn't argue when the doctor told me to spend "more time down than up."  I rejoiced when I could see my ankle bones again and could actually see a difference between my thigh and my calves about a week after the babies were born.  My hands didn't suffer as badly, until the last week of my pregnancy when my hands and face puffed up suddenly (one of the signs of pre-eclampsia; my C-section was moved up from 38 weeks to 37 because of this and other factors).
Diabetes
Women with a multiples pregnancy can be at a higher risk for gestational diabetes.  I had all of the risk factors associated with it anyway; age, race, family history and the twins on top of that.  My case was very mild; I mostly controlled it through diet (since exercise was not an option), until the very end when I had to give myself one insulin injection daily before dinner.  Stabbing myself in the stomach with a needle every day wasn't fun–I even cried when they showed me how to do it—but it didn't last forever and my babies were born healthy so it was worth it.
And now on to the high points!
Ultrasounds
It's breathtaking to see two little creatures on the screen and imagine them floating, dancing, and battling each other inside you.  One clip of our 4-D ultrasound video shows our serene baby boy's face until, out of nowhere, baby girl's foot comes along and kicks him repeatedly in the forehead! (nearly five months later, she's still the aggressor!)
Shopping
This may sound superficial, but what mom-to-be doesn't enjoy shopping for her new little one? I would go a couple times a week to the different baby superstores, "just to look" and see what my options were.  When I got too big to enjoy walking around the store, I shopped online!  Buying things in pairs of two can be overwhelming at times, but more often it was double the fun.
Movement
Babies kicking, flipping, and hiccupping make for some fascinating sensations!  When they got big enough, sometimes Icould see both moving at the same time in different parts of my belly!  Baby boy often got the hiccups, but sometimes both babies got them simultaneously and it was such a cool feeling, like a hiccup and its echo.
Carrying twins was probably the most taxing thing I've ever done, but now that the twins are here, it's hard to imagine a life without them!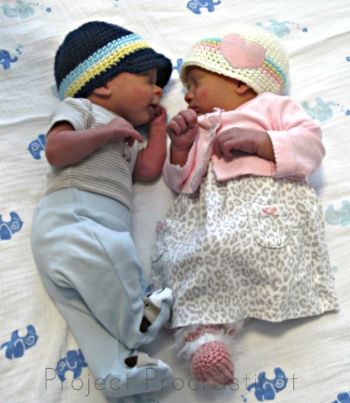 What were your pregnancy highs and lows?
As an expat, Mercedes currently makes her home in Aberdeen, Scotland, with her husband and fraternal boy/girl twins.  When she's not playing with her little ones, she enjoys cooking, reading, and writing at her blog, Project Procrastinot.