With the arrival of a third child quickly arriving, my husband and I needed to figure out sleeping arrangements in our small three bedroom apartment.  Our twin daughters had been sleeping on their crib mattresses on the floor of their bedroom for months.  We wanted to use one of the crib mattresses for our newborn son's crib and not have to buy a third crib mattress.
So, we thought about possible solutions.  We could have bought two toddler beds or twin beds.  We could have bought one full or queen-sized mattress for them to share.  We could just have our new baby sleep in the pack n' play for a long time.
Or we could get a bunk bed for our 2.5 year old twins, which would provide each one with their own bed and save space in their small bedroom.
We thought about the advantages of a bunk bed:
1. Two beds.  Each of our girls will still have their own bed to sleep on, giving them their own space.
2. More space.  Bunked beds means more room in their small bedroom.  It allows us to actually store toys in their bedroom.  Two twin beds would leave about two feet of walking space between their beds.  One full or queen bed would have taken up most of their room as well.  Now our kids can keep toys in their room and we can have less toys downstairs!
3. If someone has an accident or gets sick in the middle of the night you don't have to wake them both up to change the sheets (like you would if they shared a bed).
4. When the time comes, the bunk beds can be separated into two twin beds.
5. They can be a ton of fun for little kids to play on.
The disadvantages of bunk beds are:
1. Safety concerns:  Kids can fall off the ladder when climbing up or down.  They could fall off the bottom or top bunk if they aren't being careful enough.  They can crack their head or body part on the wood or metal rails.  If the bunks don't have a ton of space between them, the bottom child could crack their head on the bottom of the top bunk.  Also, will the slats or boards support your bouncing child enough so that the mattress doesn't fall through?  Will the bunk bed be stable enough?
2. Making the beds.  Not as easy when you can barely reach the top bunk, or have to climb on top of the bed to make it.
3. The child on top can likely reach the ceiling, light, fan, curtains or whatever else might be higher up in their room.
4. In the middle of the night whoever is on top can't see the ladder very well and can't get down by themselves (though I may see this more as an advantage right now).  Also, it's not super fun to make your tired body climb down a ladder first thing in the morning.
5. Tucking the child on top in may not be very easy if the bunk bed is very high.  Or giving them their goodnight hugs and kisses.
We figured that the advantages for us and our situation far outweighed the disadvantages and were determined to find as safe and as comfortable a bunk as possible.
Here are some of the things to consider or look for when buying a bunk bed:
1. Can they separate into two beds?  We wanted ones that could, which pretty much ruled out most of the metal framed bunks.  We like that bunks that could separate gave us flexibility in the future as our children aged and as our living situation changed.  However, not all separable bunks are made equal. One may look very different than the other when divided, which may or may not matter to you.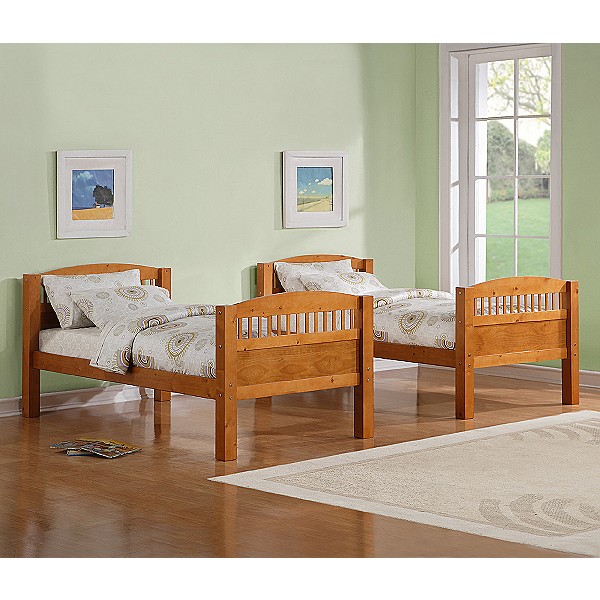 Bunk Beds that can become two twin beds
2. How much space is between the bunks?  This one was more important to me than to my husband.  I didn't want my kids to outgrow these bunks in just a few years because their heads were touching the bottom of the top bunk (or because they were kicking the bottom of the top bunk).  I also thought it would be very nice if an adult (mom or dad) could sit on the bottom bunk without stooping or hunching over and cracking their heads.  Maybe this won't be as important to you, but it is something to consider.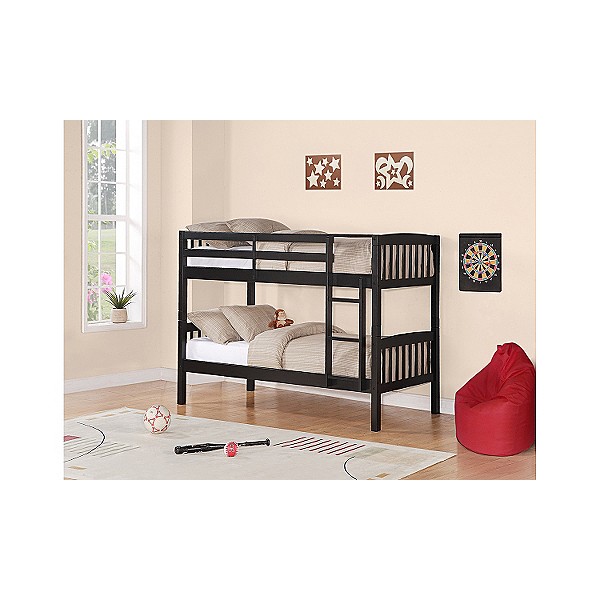 Not much room for someone to sit up if on the bottom bunk
3. How high will the top bunk be in your space?  Do you have low ceilings?  Or a ceiling fan?  Because then you might want to consider how tall this bunk bed will be.
My kids showing how much space they have on the top bunk
4. To trundle or not to trundle?  This style of bed seems to be fairly popular right now as we saw several at various stores we looked at.  However, since we are planning on using both of the beds every single day, the trundle didn't seem to make sense.  The purpose, for us, of getting a bunked bed was so we'd save floor space.  Having to pull out a bed seemed to defeat that very important aspect.  Trundle beds seem like a great option for a guest bedroom or occasional use.
Trundle Bed
5. What type of ladder or stairs will the bunk bed have?  Since our kids are still very young (under three), we ideally wanted a ladder that came out from the bunk bed or stairs that had storage drawers in them so they could climb up and down safely.  Some bunks you have to climb up on one of the ends.  Will that affect where you have to place your bunk bed?  Will the ladder or stairs take up too much space in the room?  Is the ladder removable? Are the rungs of the ladder too far apart or the initial one too far off the ground?  All important things to consider. I don't think we could've easily fit stairs or a slanted ladder into our kids' room.
A bunk bed with storage stairs attached
6. How high do the rails come?  Is there only one rail above the mattress?  Or two?  Or three?  Do the rails cover the entire front or back or ends?  On both top and bottom or just one?  We definitely wanted high rails for our very young children to ensure it would be as safe as possible.

7. How stable will the bunk bed be?  Whenever we went to look at bunk beds in the stores, my husband was especially adamant about having to put the bed through a "shake test."  How much did the bunk bed rock?  Part of the reasoning is that kids are hard on furniture.  They will jump and bounce and yank and rock that bed, so the more it allows for that, the sooner the bed may "die" or fall apart or collapse.  To gauge whether we thought a bed was fairly stable, we looked at how thick the corner pieces of the bed frame were as well as how it was assembled together and the materials used.
8. Aesthetics.  Do you like how the bed looks?  Is the wood sanded and polished nice and smooth?  Or is the wood gritty feeling?  Do the drawers (if applicable) slide nicely in and out?  Do you like the color of the wood or metal?  Do you like how the bunks look when separated?  If you like DIY projects then these may not be as important to you, but if you don't want to have to worry about these things, it is important to consider.
9. Storage space.  Does the bunk come with extra storage space? Is there room under the bottom bunk for things?  Are there drawers in the staircase?  Does the bunk come with a desk or shelves attached?  If you are looking into a loft bed these things are probably much more important to you.  But, remember the space you plan on putting the bunk bed or loft in. Will there be enough room around it to access the shelves or desk or drawers provided?
Bunk Beds with work spaces and storage combined
10. Cost.  We are, like most people, always looking for a great deal.  And you'd be surprised how quickly the price of bunk beds can escalate, but also how unstable and unsafe the cheapest (~$150) new bunk beds can feel.  My suggestion is always to shop around.  Figure out what features are most important to you of the nine points I listed above.  Safety of course should be a top concern, so the materials and construction of the bed should be among your top priorities.  Do you feel more comfortable with a metal framed bed?  Or do you really prefer wood?  Also, when thinking about cost, remember that you will still need to buy mattresses and sheets and perhaps even bunkie boards.  We looked around at bunk beds at various stores to solidify what we and our children liked and were able to climb up on and to compare cost.  We also looked in the local newspapers classifieds and on craigslist.org.
We ended up buying our bunk bed gently used off of craigslist for only $200. Here's the bed we ended up purchasing (without the bedding on) set up in our daughter's bedroom.
This bunk bed pretty much takes up a large majority of the small bedroom, but it has allowed us more space on the opposite side of the room for a rocking chair, a fan, and a bin of toys:
Our girls absolutely LOVE their bunk beds.  We prepped them for weeks ahead of time before we actually purchased them.  We talked about who would be sleeping where, and let them pick out their own bedding.  Today they pulled me into their bedroom to show me their bunk bed, four days after they've already been set up.  They show off how they are able to climb the stairs. Both of them love climbing onto the top bunk and playing up there, even if sometimes one of my daughters gets a little scared and wants help going up or down.
We love that the top bunk has such high rails, partially because we purchased only 6″ mattresses.  But, it's like a mini crib again for our girls!  So far no one has even come close to flipping over the rails.  We've had a couple tumbles on the stairs, but nothing major.
I hope that this list helps you in your search for the perfect bunk beds for your family.  Leave me a comment with anything else I may have forgotten to mention as something to consider.  How have you saved space in your home with twins?