Happy Halloween! I hope you are ready for a special EXTRA edition of Make-It Mondays: Halloween Edition! Please forgive me that this isn't on Monday, but I thought it would be very fitting to have this post be published in time for Halloween. Today, I want to feature some DIY Halloween costumes, both for us pregger moms and our multiples.
I know that so many of us see "DIY" and we get that sweaty feeling. Oh no! I'm not crafty! I can't do that! Well, I'm here to tell you, friend, that you can! In this DIY post, it just means that these costumes aren't all boxed-up nice and pretty. You have to gather a little here and a little there. You can do that! In fact, these tend to look much better than the pre-packaged costumes, and they are the most memorable ones!
*Note: In order to find the original source (when applicable), please click on the picture. If available, it will take you to the website where the image was found.*
DIY Costumes for Us Pregger Moms-to-Be
1. "Buns in the Oven Bakery"
This just requires a box with some holes cut in it and some spray-painted cups (or bottle caps) as the knobs. Easy!
2. "Skeletons Inside"
Yes, you do need to have the vinyl transfers, but once you do, all you have to do is iron this on a black shirt.
3. "I'm Dressed Up as my Mommy"
This is found on Etsy, but you could easily take a shirt and write it in marker (or vinyl).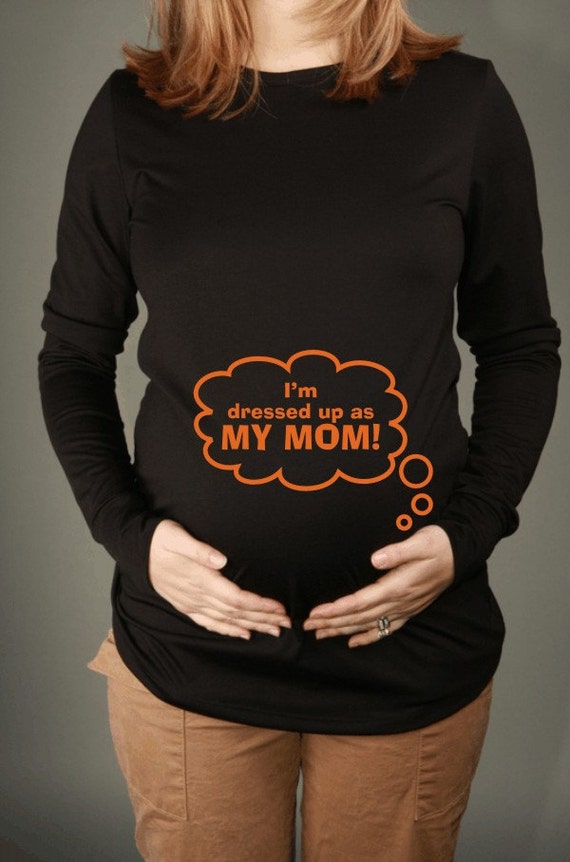 4. "Snoopy Belly"
Ok, as a lover of the comic strip Peanuts, I have to include this one. This just requires some felt on a white shirt. Plus, you can coordinate with your honey, and he can be Charlie Brown!
5. "A Gypsy and Her Magic Ball"
This one doesn't take much extra than what you may already have around your house. You will need a black top (tied up to reveal your painted belly) and a long, black skirt. You may need to get a black scarf and some beads to tie around your head, but that's about it. Throw on some heavy eye makeup, and you are ready to go!
6. "Angry Birds"
Yes, the game isn't as popular now as it was a year or so ago, but this is still a great home-made costume. You just need some felt (or vinyl) for the face, and you can tape a 3-D paper beak on for the final touch.
7. "Winnie the Pooh"
It doesn't get much easier than this. A red-collared shirt, cut just under the bust. A yellow maternity shirt underneath. A black dot on your nose. A jar of honey. You can add the "Pooh" writing to the shirt or not. Regardless, you have an easily-recognized character.
8. "The Solar System"
"All you need to do is get a comfy black t-shirt, put a sun smack dab in the middle, and hang planets from your arms to turn yourself into something straight out of outer space." -TheStir.CafeMom.com
You can find these costumes and some more at http://www.huffingtonpost.com/2013/10/11/halloween-costumes-for-pregnant-women-2013_n_4071993.html
DIY Costumes for Our Multiples
1. "Princess Leia and Luke Skywalker"
Take a look at Professional Twin Mommy's blog to see how she made this. My favorite part is that Luke and Leia actually ARE twins in the story. Yes, my Baby Boy and Baby Girl WILL be Luke and Leia one year.
2. "Superman and Clark Kent"
For identical boys, this is an adorable get-up. Superman needs a blue onesie with a felt "S" logo and a red cloth as a cape (a red towel would work). Clark needs a spiffy old-fashioned-looking suit with a blue onesie underneath. I love how this mom drew the glasses on her child, so he didn't try to keep taking them off.
3. "Thing 1 and Thing 2"
This is perhaps one of the most popular twin costumes, so I almost didn't include it. I liked how this mom (I wish I could find the original source) used blue boas for their hair, instead of buying a wig. The body costume itself was made from red sweatshirts and sweatpants, with a "Thing 1/2" circle cut, drawn, and attached onto the shirt.
4. "The Flintstones"
Although I found a picture of Fred and Wilma, you could easily extend this to the whole Flintstones gang (Pebbles, Dino, Barney, Betty, Bamm-Bamm) and have a whole family of Flintstones. These costumes aren't much more than draped fabric (felt or cotton will work fine) with cut-off edges and accessories. Fred's tie and spots are easy to add on, and the entire thing doesn't have to be perfect. Remember, they came from a prehistoric era without sewing machines! The rougher, the better!
5. "Salt and Pepper"
This costume was found on Etsy (click the picture to take you to the listing), but it is easy to make! Onesies with the letter S and P on them, and two chef hats with black circles on the top. Voila! Your little movers and shakers (pun intended) are ready to go.
6. "Tweedle Dee and Tweedle Dum"
I wanted to show a picture of a girls' version of this costume, because this is so gosh-darn cute! To make it easy, take a yellow shirt, red pants, and a blue bowtie. You can add the blue baseball caps and white gloves, but they aren't required.
7. "Charlie Brown and Lucy"
As I said above, I LOVE the Peanuts comic strip. These adorable outfits are iconic, but also easy to pull off. Charlie Brown needs a yellow shirt (collared or t-shirt), with a black chevron stripe around the tummy. Black or brown pants will do, and a football is a great prop. Lucy will need a blue dress with 4 buttons sewn in the center. This will be another must-do for my twins.
8. "Sushi"
This costume will take a little bit of sewing to accomplish, but once that is done, it will be perfect! You will start with a white pillowcase dress (whether it is for a boy or girl), and then you need to pick your sushi. You can get a half-yard of colored fabric from your local fabric store (I would recommend felt because you won't have to worry about the ends fraying). Cut it into the shape you want and sew it onto your base "dress." You could also iron the material onto the base "dress" using Heat N Bond, if you only need to use the costume once. Also, look at those cute hats/headbands with ginger and wasabi rosettes!
9. "Gnomes"
This is a fun one. You will need to make a cone-shaped hat (either out of a stiff material or paper), and you will attach the hair to the underside of it. For a girl, you will take yarn and braid it into two parts. The boy will have one string of yarn with tassels hanging down. They are then just wearing red shirts and dark pants.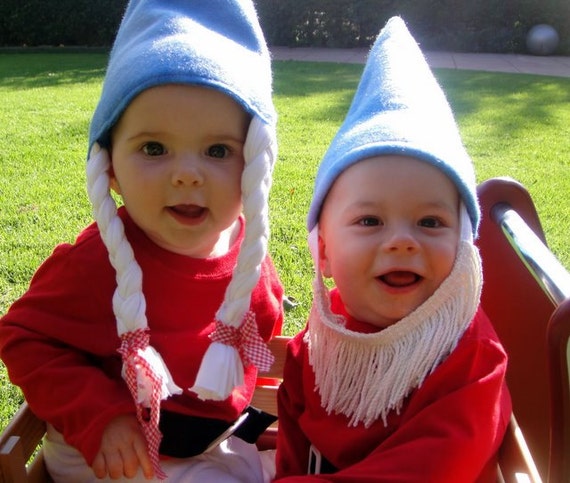 10. "Raggedy Ann and Andy"
This costume was made through a pattern, but it would be simple to replicate with a little bit of Goodwill shopping. Andy needs a red collared shirt and blue pants. He also needs lots of red yarn for a wig and a sailor hat (easy and cheap to get at your local party store). Make sure the pants are short, so the red socks show underneath. Ann needs a longer red yarn wig and an old-fashioned dress. I bet you could find this at a local thrift store. Even if it is big for your little girl, that's ok. She then needs a white pinafore. This is easy to recreate with white fabric wrapped around the dress and two thick ribbon as the straps. You don't have to include the bloomers, but white tights and black shoes will complete the outfit. You could also add red triangle makeup to their noses for a cute something extra.
Here are some other great sites for twin costume ideas:
http://blog.babygizmo.com/2013/10/10-great-halloween-costumes-twins/
http://www.pinterest.com/twinsgiftco/twins-costumes/
http://www.pinterest.com/rutgers96/twin-halloween-costume-ideas/
For a big list of other costumes (not necessarily DIY, check out this great one from hollilong.com), check out this link.
DIY Costumes for Our Multiples (From HDYDI.com Moms)
1. Jennifer Wood's "Mario and Luigi"
"My Mario and Luigi costumes were overalls I got at resale for $3 each. The long-sleeve onesies I got on clearance at Kohl's. The hats I made. "

2. Jennifer Wood's "Captain Hook and Mr. Smee"
http://goteamwood.com/2012/10/30/mickeys-not-so-scary-halloween-party/
"Capt. Hook's jacket was a thrift store boys dress shirt I added gold ribbon trim, black girls leggings from the thrift store, a yard of lace trim safety pinned to the collar and thrift store shoes. Mr Smee's shirt and hat I made, but the sandals and shorts were thrift store too. The glasses, which made the whole outfit, were $1 store 'cheaters' that I popped out the lenses."
3. Sadia Rodriguez's "Rainbow Fairies Amber and Heather"
http://www.motherhoodsisterhood.com/2010/10/halloween-2010.html
4. Sadia Rodriguez's Mary Poppins 
http://www.motherhoodsisterhood.com/2009/10/shortest-party-appearance-ever.html
"E-bay and eCRATER are far more convenient for thrift shopping than Goodwill or other brick and mortar thrift stores! The umbrellas, which I got brand new on Amazon, were the most expensive components of the costumes, at about $15 each.
Melody's dress was a $2.50 Christmas dress, and the tulle for her hat cost a quarter. Jessica's skirt is actually a knee-length skirt of mine, while her shirt was a $1 find. The coat/dress was about $10, second-hand. The shoes were $7/pair at Walmart, and the tights were hand-me-downs from the neighbours. I found the bucket hats at T.J. Maxx for $8 each, and the silk flowers were a couple of bucks. Jessica's carpet bag was a $3 bag-shaped plywood box from Michaels, with a fabric scrap lacquered on using liquid laminate, which is one of the more bizarre things I happened to have lying around the house. So, both outfits came together in under $80. Sure, I could have bought brand-new ensembles for the same, but despite my grumbling, the effort was worth it in the end."
5. Margie Pelz's "The Lorax and the Truffula Tree"
http://www.doublethegiggles.com/2012/10/the-lorax-easy-homemade-halloween.html
6. Carrie's "Moose Family"
"We were all moose for no reason other than I love moose! Homemade and it shows but that is what made it cute! The plus is that my boys are still wearing the fleece pants a year later and I took the antlers off the sweat shirt and still wear it."

*Dory is the author of Doyle Dispatch and currently pregnant with boy/girl twins. To read more posts about Dory's pregnancy and DIY projects, you can see the list here.*