Goddess in Progress recently touched on the subject of making time for yourself.  I'd like to propose something even more radical.  Make time to be creative.
I first started quilting when my twins were four months old and my oldest was not yet two years old.  Sounds like a crazy time to take up a hobby but looking back, I can see how it really saved my sanity.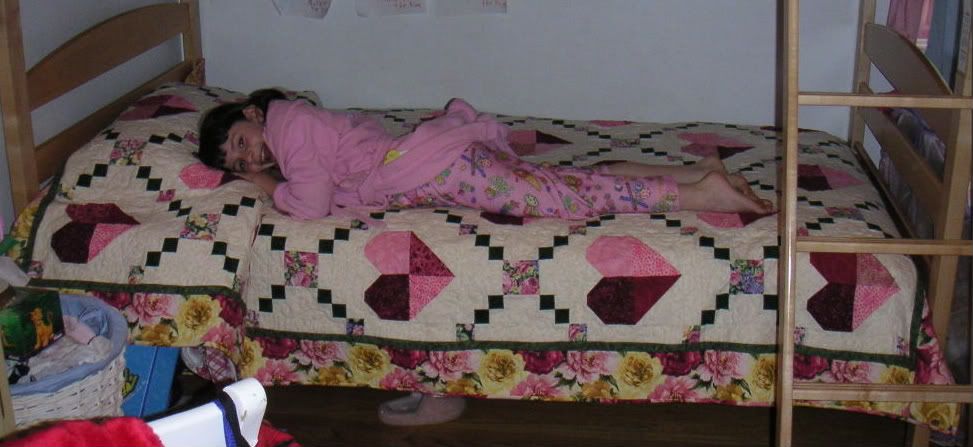 Intellectual Stimulation
I stopped working outside the home when I had my twins, and I missed the challenge of problem-solving that my work had involved. Learning something so totally new to me was a great mental endeavor.
Sense of Accomplishment
Sometimes quilting is the only thing I do around the house that stays done.   Especially when the kids were very small, life seemed to be an endless round of diapers, laundry, feedings.  And no matter how well I did those things, they had to be done again.  Finishing a quilt is like climbing a mountain.  I get euphoric when I'm done.  Then it's on to the next one.  In addition, I've discovered new skills and a sense of color and composition that I never knew I had.
Positive Reinforcement
Nothing is more fun than giving something handmade to somebody who really appreciates it.  My kids each have a stack of quilts now, some of the smallest ones almost threadbare.  People who visit give compliments that make me feel great.
New Circles of Acquaintance
Endless mommy-talk was easy to find at playgrounds, and anywhere I would go with my twins in their stroller, but through quilt shops and classes, I met new people and got to talk about things other than parenting.
If this all seems impossible, let me reassure you that I had three children under the age of two.  If I could do it, so can you.  If the benefits above are appealing to you, here are some steps that might help you start down the road to creativity.
1.Visualize and Daydream

I spent many months with some "how-to" books before I got up the nerve to begin.  I looked at the pictures of completed quilts and knew I wanted to have quilts in my house someday.
What kind of creative outlet appeals to you?  Do you want to design blogs?  Develop your writing skills with your own blog?  Scrapbook? Knit? Bead?  We're living through a fabulous rebirth of home crafting and there are books and magazines and materials readily available through stores and the internet.  Spend some time just admiring and thinking about what you would really like to do.
2. Be Willing to Fail
I think this is crucial when trying new things.  I repeated this to myself over and over.  I wasn't ever going to beat myself up over this, it was an extra thing that I was playing with.  Failure would be fine.  Babies don't care if quilts are lousy.  I could always use them for dusting.
3. Start Small
Time is precious.  Money is precious.  Supplies to begin a new craft can be overwhelming.  I researched how I could start with the bare minimum of quilting supplies.  Pre-made kits of supplies aren't always a bargain.
4. Carve Out Time
This goes along with "Start Small."  My husband took up drawing because he realized that he could sketch in about 10 minutes of free time.  Now he does watercolors and elaborate drawings, but he still sits down to do a quick sketch when he only has a little time in the evening.  When I started quilting, I broke down the steps and worked for about 30 minutes at a time while the kids all napped.  Now I carve out time to do needlepoint while I'm in the car waiting for ballet class to end, I embroider tea towels in the car while my husband drives, and I sew a lot after the kids go to bed.  Lots of little chunks of time can really add up.
5. Forgive yourself
I always wince a little when a mom tells me how guilty she feels for not keeping up with her scrapbooking.  I want to say "forget it!  Scrapbooking isn't your thing!"  Find something else that you love, and it will get done.  I never got hooked on scrapbooking, but I make photobooks on Shutterfly, which are kind of cute and up to date, but not as gorgeous as handmade scrapbooks.  I love receiving homemade greeting cards, but I've only made cheesy rudimentary ones myself.  So I don't make cards.
I feel so lucky to have found something I love, which recharges me and challenges me and separates me from my role of parent.  As my kids have grown, I'm even more grateful that I have creativity in my life to balance my time.  I think seeing me create is inspiring to my kids, who do all kinds of creative things themselves.
So get out there and get creative!  What are you willing to try?
You can find my blog, with lots of posts about quilts at Lit and Laundry.